IamDerby re-releases his 4 track EP "Ride With Me" which features one of his most controversial songs to date "I FEEL" (Produced By Syndrome).
Originally published on August 10, 2020, the EP version of "I FEEL" contains samples from a YouTube video of his ex-girlfriend speaking about hearing the original song ("I FEEL", 2019) and explaining the toxic downfall of their relationship caused by infidelity and lies. The 2020 EP also includes one of his most well known songs "BETTER" (Produced By Illuid Haller) & his hit single of 2020 "Ride With You" (Produced By WavyGvbe) which includes a music video via YouTube filmed by Gravityfilms757. Overall, the "Ride With Me" EP is inspired from different events that occurred around that time for the artist; mainly his past failed relationship. The cover art shows IamDerby on a roller coaster (The Lochness Monster via Busch Gardens, VA) with both middle fingers up flipping "the bird" with a care free facial expression.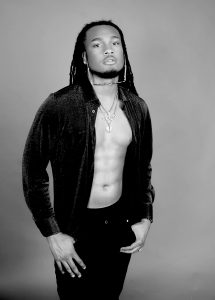 The passenger [riding] along side of IamDerby is none other than youtube influencer, business mogul, and musician Meela Belle which sparks fans to believe that this is the start of their relationship, leading into his 2021 Debut Album "A Pain So Beautiful" which is creatively based off their relationship as well. However, each passenger riding with IamDerby on the cover photo [of "Ride With Me"] displays a pleather of different emotions in which is believed to explain the title of the EP (Ride With Me). "Life is like a rollercoaster, some moments you will be up and some moments you'll be upside down, but the ride doesn't last too long", IamDerby says in a deleted interview with BluCloud Radio during the initial release. This project can be found on all digital music streaming platforms including soundcloud.com as well. All lyrics to this EP are now on Genius. So what's next for IamDerby? Follow him on all his social platforms (via link below) to stay connected.
All things IamDerby (link): solo.to/iamderby