Fast-rising multitalented singer, Royelle, announces the release of the video to his latest single with Name Brand Label titled "Lit Chick"
Royelle is set to officially make his break in the mainstream Industry as he drops the video to his new single. The music video to Lit Chick will be released on YouTube, as the Atlanta-born talented singer and songwriter takes his fans to next level success with his fun and exciting music and relatable lyrics.
Since music has evolved into a streaming era, and more acts emerge across genres from different parts of the globe, it has made it more accessible for artist to blow up from anywhere . However, Royelle, is taking things to another level, and you can see that in the expansion of his quickly growing fan base and streams rising.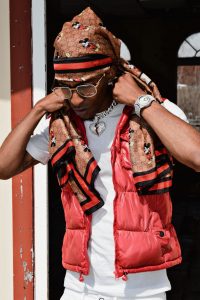 Royelle is ready to take over the music world, with his fun and sexy voice and style that compliments the blend of different genres from R&B to Hip Hop, allowing him stand out from competitors. The fast-rising musician is building on the success of his previous singles, Bonnie and Clyde, Show Out and current mixtapes "Sry 4 The Wait and ILY Royelle, with the smooth sexy Lit Chick offering a loving feel to lovers of good sound.
Royelle has been consistent dropping music in 2022 as though he has a point to prove. Back to back singles, first it was Bonnie and Clyde, now "Lit Chick" with Name Brand Label. Lit Chick was inspired by that puppy dog stage. The feeling of being in-like or infatuated so much that you want to spend every wakening moment together. "Sometimes that phase gets old fast, but if you really rock, that phase can turn into a relationship".
Aside from writing the song, Royelle also produced this record. As multi talented artist and producer makes a break on the scene, he's showing us what he's truly capable of! This latest song from singer Royelle definitely gives musical influences from Chris Brown, and Michael Jackson with a splash of that Hip Hop.
Name Brand Label "Lit Chick" is out now and available on all streaming platforms.
Follow Artist/Producer Royelle and his journey as he embarks on this newly found business venture and see what's next!!
Follow Royelle on Instagram, Twitter and TikTok.
Website:- www.RoyelleKing.com