Rap artist Agon has recently been making waves on the rap scene with songs that aren't only hard-hitting, but also personal and inspiring. His music combines hip-hop sounds with lyrics that are all about helping people make positive change in their lives. His upcoming album, "It Can't Rain Forever", feels like the next step in an amazing musical journey, and we can't wait to see what's next!
August 26th 2022 – Agon is an artist with a focus on creating one-of-a-kind rap music. His most recent release "It Can't Rain Forever" is not your average hip-hop album. It is a strong statement, which highlights the unique personality of the artist and his different approach to making music and creating electrifying vibes with the audience.
If you are a fan of artists such as Lil Wayne, Juice WRLD, Eminem, Drake and Tupac Shakur, you will have absolutely no trouble in connecting with Agon's hard-hitting music vision, especially for "It Can't Rain Forever". This new release is a straight-on example of how the artist is always willing to be direct, outspoken and take chances with his music, letting his flow and personality shine, each step of the way.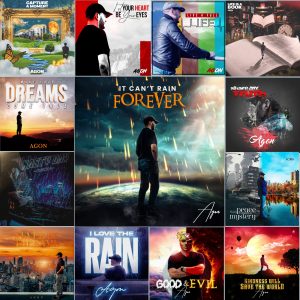 Agon raps about truly deep topics. These include the eternal balance between good and evil, and the struggle to be on the "right side" of positive thinking. While most rappers use explicit language and cussing in their song, Agon doesn't want to take "the easy way," and he works hard on crafting lyrics that are inspiring and motivational. He has a lot of respect for all rappers out there and he deeply believe in every artist's right of self-expression and creativity as they please, but he wants to do more with his music, communicating with people and share much deeper thoughts with every song. This album is going to be a perfect example of that!
Find out more about Agon, and check out "It Can't Rain Forever". This release, featuring 12 songs is going to be available on the best digital music streaming services very soon:
𝟭.         𝗖𝗔𝗣𝗧𝗨𝗥𝗘 𝗔 𝗠𝗢𝗠𝗘𝗡𝗧
𝟮.         𝗟𝗘𝗧 𝗬𝗢𝗨𝗥 𝗛𝗘𝗔𝗥𝗧 𝗕𝗘 𝗬𝗢𝗨𝗥 𝗘𝗬𝗘𝗦
𝟯.         𝗟𝗜𝗩𝗘 𝗔 𝗙𝗨𝗟𝗟 𝗟𝗜𝗙𝗘
𝟰.         𝗟𝗜𝗙𝗘 𝗜𝗦 𝗔 𝗕𝗢𝗢𝗞
𝟱.         𝗠𝗔𝗞𝗘 𝗬𝗢𝗨𝗥 𝗗𝗥𝗘𝗔𝗠𝗦 𝗖𝗢𝗠𝗘 𝗧𝗥𝗨𝗘
𝟲.         𝗦𝗛𝗔𝗥𝗘 𝗠𝗬 𝗧𝗥𝗨𝗧𝗛
𝟳.         𝗡𝗔𝗦𝗧𝗬 𝗗𝗔𝗬
𝟴.         𝗪𝗜𝗟𝗟 𝗣𝗘𝗔𝗖𝗘 𝗥𝗘𝗠𝗔𝗜𝗡 𝗔 𝗠𝗬𝗦𝗧𝗘𝗥𝗬
𝟵.         𝗡𝗘𝗩𝗘𝗥 𝗕𝗘 𝗧𝗛𝗘 𝗦𝗔𝗠𝗘
𝟭𝟬.      𝗜 𝗟𝗢𝗩𝗘 𝗧𝗛𝗘 𝗥𝗔𝗜𝗡
𝟭𝟭.      𝗚𝗢𝗢𝗗 & 𝗘𝗩𝗜𝗟
𝟭𝟮.      𝗞𝗜𝗡𝗗𝗡𝗘𝗦𝗦 𝗪𝗜𝗟𝗟 𝗦𝗔𝗩𝗘 𝗧𝗛𝗘 𝗪𝗢𝗥𝗟𝗗
Pre-save link: https://agon.fanlink.to/it-cant-rain-forever
Follow AGON on all digital platforms & social media: https://www.agonsg.com/follow
Web-site: www.agonsg.com
Instagram: https://www.instagram.com/agon_sg
Facebook: https://www.facebook.com/agonsg
Linked: https://www.linkedin.com/in/agon
Twitter: https://twitter.com/agon_sg
Tik Tok: https://www.tiktok.com/@agon_sg
Artist link on Spotify:
https://open.spotify.com/artist/7ekkWpaENoJp9DD9P92D0C
Artist link on Apple Music:
https://music.apple.com/us/artist/agon/1573881059
Artist link on SoundCloud:
https://soundcloud.com/agon_sg